TWO MUCH GUITAR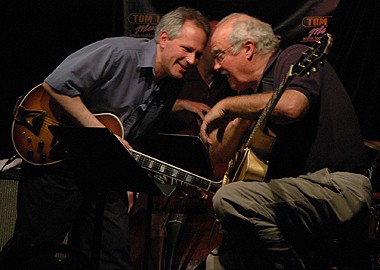 Two Shows: Tickets $30.00 each show
Saturday September 17, 2016
School of Music, Madeira Park
First Show: Performance 7:00PM-8:10PM
(Doors 6:30PM/6:20PM for Kool Kats)
Second Show: Performance 9:00PM-10:10PM
(Doors 8:30PM/8:20PM for Kool Kats)
Tickets for sale now!
A smoke and fragrance-free event
Headlining the Festival, and continuing our "ICON SERIES," The Pender Harbour Jazz Festival welcomes two Canadian Icons to our stage: Bill Coon and Oliver Gannon with Two Much Guitar. Coon and Gannon are two of Canada's most popular guitarists, straight-ahead partners in a duo that is reminiscent of the great pairing of Herb Ellis and Barney Kessel. Sparks fly between these two, documenting the conversational quality and intimacy they achieve. Gannon is the high water mark in the instrument's modern tradition in Vancouver. He's a direct, earthy, fabulous foil to Coon's breathtaking dexterity. They are a delight to hear and see perform. Two Much Guitar is: Oliver Gannon, guitar; Bill Coon, guitar; Darren Radtke, Bass; Dave Robbins, drums.
SATURDAY JAZZAPALOOZA
SEPTEMBER 17, 2016
Tickets $30.00 for entire afternoon
Tickets for sale now!
Children under 12 are free
MILLENNIUM PARK IF DRY DAY/COMMUNITY HALL IF WET DAY
Performances 12:30PM – 4:30PM
(Doors 12:00PM/11:50AM for Kool Kats)
A smoke & fragrance-free event
JACLYN GUILLOU, 'THIS BITTER EARTH'
12:30pm – 2:30pm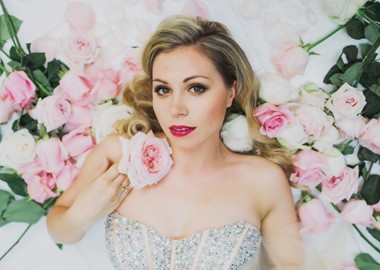 In a dynamic tribute to Dinah Washington, the legendary jazz and blues singer of the 1950's, Jaclyn Guillou will be performing songs from her 2016 Juno and WCA nominated album, 'This Bitter Earth.' Backed by a who's who of Vancouver jazz musicians, Guillou's emotionally rich vocals use traditional elements and a new modern take on classic tunes.
"Guillou's voice is such a seamless synthesis that it is wholly unique. This is the sound of genre crossover at its most successful." ~ All About Jazz
Jaclyn Guillou's Orchestra is Jaclyn Guillou, vocals; Eli Bennett, tenor saxophone; Tristan Paxton, guitar; Jillian Lebeck, piano; Darren Radtke, bass; Bernie Arai, drums; Cameron Wilson, violin; Janna Sailor, violin; Henry Lee viola and Finn Manniche, cello.
NOTE: CHANGE OF PROGRAM
CAMPBELL RYGA QUARTET
2:45PM – 3:30PM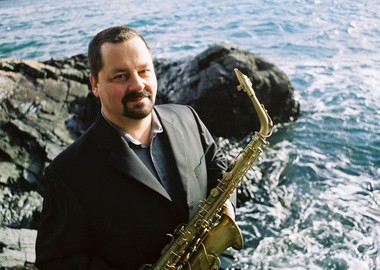 Saxophonist Campbell Ryga is a triple Juno Award winner, a Grammy nominee and a founding member of the All Star Hugh Fraser Quintet. Ryga's recordings as a band leader include Juno nominated 'Spectacular,' 2001; Juno nominated 'Deep Cove' 2005 and a 2008 collaboration with Alto Sax player PJ Perry, 'Joined at the Hip.' His music is lyrical, melodic and swings. The Campbell Ryga Quartet is Campbell Ryga, alto and soprano saxes; Chris Sigerson, piano; Miles Foxx Hill, acoustic bass and Craig Scott, drums.
KUTAPIRA
3:45PM – 4:30PM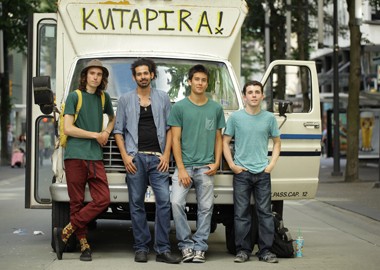 The name Kutapira means "sweetness" in the Shona language of Zimbabwe, a fitting title for a band that plays a fusion of Zimbabwean marimba with West African and Afro-Cuban percussion and more. "When Kutapira burst onto the Listen Up stage like a bunch of up and coming groove monsters, the future of rhythm-making in Vancouver just got a whole lot more exciting." – Sal Fererras, Director of Music, Vancouver Community College. Kutapira is Sangito Bigelow, percussion, marimba, vocals; Chris Couto, percussion, marimba; Theo Vincent, percussion, marimba; Scott Verbeek, guitar.
SUNDAY JAZZAPALOOZA
SEPTEMBER 18, 2016
Tickets $30.00 for entire afternoon
Tickets for sale now!
Children under 12 are free
MILLENNIUM PARK IF DRY DAY/COMMUNITY HALL IF WET DAY
Performances 12:30PM – 4:30PM
(Doors 12:00PM/11:50AM for Kool Kats)
A smoke & fragrance-free event
JEN HODGE ALL STARS
12:30PM – 1:15PM
Jen Hodge All Stars are Vancouver's most authentic and most in-demand early jazz band. Comprising some of the city's best young jazz musicians, the group is remarkably well-versed in the music of the 1910s, '20s, and '30s, taking their cues from past greats such as early Louis Armstrong, Bix Beiderbecke and Jelly Roll Morton. Bring your dancing shoes. The Jen Hodge All Stars are: Jen Hodge, upright bass, vocals; Bonnie Northgraves, trumpet, vocals; Ben Henriques, reeds; Arnt Arntzen, banjo, guitar, vocals and Nick James, drums, vocals.
MAUREEN WASHINGTON
1:30PM – 2:15PM
Maureen Washington slips easily from sassy to sexy within a single line of lyrics, at times echoing the haunting tones of Etta James and Carmen McRae, then faster than the mind and ear can make the transition, Washington exudes the impish irreverence and the vocal agility of Holly Cole. Winner of the 2014 Black Canadian Award's Best Jazz and Soul Artist, and with 7 albums to her credit, it is a pleasure to welcome Ms. Washington to our JAZZAPALOOZA stage. Maureen Washington, vocals;
Karel Roessingh, piano.
BRAD TURNER QUARTET
2:30PM – 3:15pm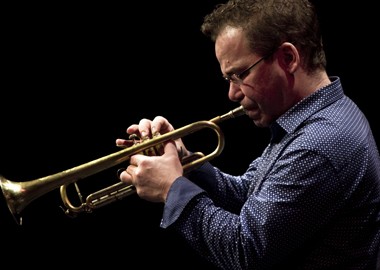 Juno award-winning multi-instrumentalist/composer Brad Turner is one of Canada's most talented and prolific jazz artists. Based in Vancouver, Brad is known mainly for his trumpet playing, but is also highly skilled on piano and drums and as an album producer of some great new B.C. talent. His acclaimed Vancouver-based quartet is known for its keen interactive sense, formidable improvisational skills and varied repertoire. The Brad Turner Quartet it Brad Turner, trumpet; Bruno Hubert, piano; André Lachance, bass; and Dylan van der Schyff, drums.
MARC ATKINSON TRIO
3:30PM – 4:15PM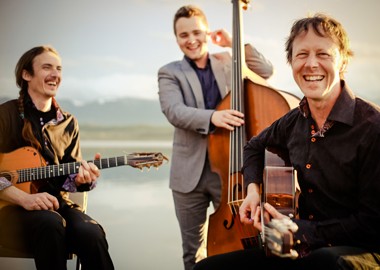 Finishing off the Sunday JAZZAPALOOZA in the spot reserved for Gypsy Jazz is the Marc Atkinson Trio. 'Jaw dropping,' 'dazzling,' 'exuberantly fresh,' and 'sparkling' are just a few of the adjectives attributed to this trio in reviews from around the world. Though primarily gypsy jazz, the trio combines a wide variety of influences into an original, elegant and highly entertaining style, led by their virtuosic multi-instrumentalist, composer and arranger, Marc Atkinson. The Marc Atkinson Trio is Marc Atkinson, guitar; Brett Martens, rhythm guitar; Scott White, bass.
PLAY IT FORWARD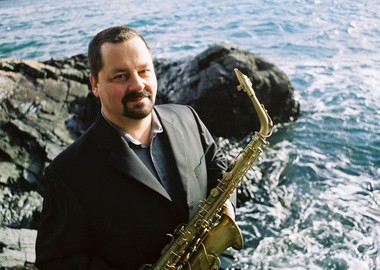 CAMPBELL RYGA, CLINICIAN
AT THE FREE STUDENT CLINIC
Friday, September 16, 2016
12:30PM – 2:30PM
Pender Harbour Community Hall, Madeira Park
A smoke & fragrance free event
This year we are delighted to continue the Festival tradition of providing a free clinic for all Sunshine Coast high school music students. The Clinic is open to the public, but please remember, this is a class. Students will receive priority seating.
GOSPEL HOUR
THE SOJOURNERS, A CAPPELLA
Sunday, September 18, 2016
10:30AM – 11:30AM
School of Music, Madeira Park
Tickets $20.00
Tickets for sale now!
A new tradition for 2016, we are introducing a Gospel Hour on Sunday morning to bring us back to one of the roots of Jazz. This inaugural year, we are delighted to have The Sojourners, unplugged and A Cappella onstage at the School of Music. "We're living in trying times. We can split the atom, clone DNA and send images and ideas across the world at the speed of light, but we still haven't learned to live together and hear the cries of our brothers and sisters when they need us the most. Sometimes, faith is the only thing that can carry us from darkness to light, and often music is what illuminates us on that journey. It's during those times that you want to call on The Sojourners." Doug Heselgrave. The Sojourners are Marcus Mosely, Will Sanders and Khari McClelland.
JAZZ MINSTRELS
KAREN GRAVES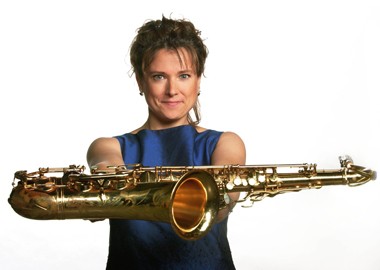 Friday, September 16, 2016
FREE (The Hat will be passed!)
3:00PM – 4:30PM
Under the Big-Top behind the Community Hall, Madeira Park
After a trip around the world where she experienced multiple cultures, Karen has a renewed outlook on music. Motivated by a strong melody, a good story and some je ne sais quirkiness, her group covers the musical spectrum from Monk to Funk and Abbey Lincoln to Joe Zawinul. Karen Graves, saxes, flute and vocals; Budge Schachte, guitar; Brent Gubbels, bass.
CANNERY ROW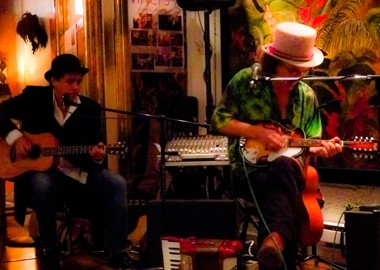 Saturday, September 17, 2016
FREE (The Hat will be passed!)
10:00AM – 11:30AM
Under the Big-Top behind the Community Hall, Madeira Park
Gary Comeau and Tim Hearsey are thrilled to be back as our Saturday Minstrels. Serving up a big taste of Cajun Jazz, the boys will bring sunshine and groove to Saturday morning, whatever the weather. Cannery Row is Gary Comeau, piano, accordion, fiddle, mandolin, vocals and Tim Hearsey, guitar, slide guitar, vocals.