WELCOME TO THE 20TH ANNIVERSARY OF THE PENDER HARBOUR JAZZ FESTIVAL, SEPTEMBER 16-18, 2016. WE'RE GOING TO HAVE A BIRTHDAY PARTY!
TICKETS NOW ON SALE!
Continuing our Icon Series, we are showcasing 2 Canadian Icons: BILL COON and OLIVER GANNON with TWO MUCH GUITAR. Tickets go on sale June 1st on this website, so get your clicking fingers ready. There will be two shows Saturday, September 17 at the intimate School of Music. Only 90 seats for each show!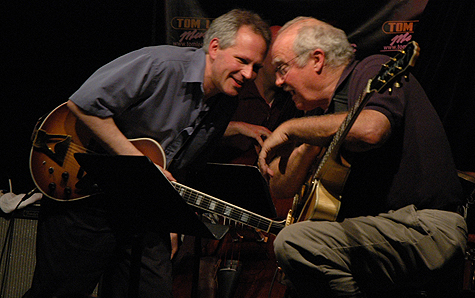 The Big Band this year is the amazing Juno and WCA nominated JACLYN GUILLOU with her tribute to Dinah Washington, 'This Bitter Earth.' The 2 set performance will be at Saturday's JAZZAPALOOZA.
And this year we have added a new tradition: Gospel Hour on Sunday morning, taking us back to one of the roots of Jazz. Our inaugural group is THE SOJOURNERS, A Cappella, at the School of Music.
We again bring you as many different styles of Jazz as possible this year. We have straight ahead, Hot Jazz from the teens, Gypsy, Afro, Big Band, 30's and 40's and much more. Bring your blankets, umbrellas, sun hats, sun screen, dancing shoes, and have a great time!
VIEW OUR 2016 PROGRAMME

SUBMISSIONS FOR THE 2017 PENDER HARBOUR JAZZ FESTIVAL (September 15, 16 & 17, 2017) ARE OPEN UNTIL DECEMBER 31, 2016!

Please send a CD and press kit to:
PHJAZZ
Box 165
Garden Bay, BC V0N 1S0
Be a Kool Kat!
As a solo, duo, trio,  quartet, quintet or Big Band, you and your friends can step up and become sponsors of the Jazz Festival by becoming KOOL KATS.  In return, you get ten minutes advanced seating (before doors open) at ticketed events for premium seating, receive a free KOOL KAT t-shirt, a CD from one of our performing artists, a chance to win Motoko's Limited Edition Print on Canvas 'ESSENCE' 24"x 48" and a charitable tax donation receipt
Corporate Sponsors
We thank the support of our corporate sponsors for making the Pender Harbour Jazz Festival a reality. See the list of our 2016 SPONSORS.  For more information about sponsorship, please click here.