THERE WILL BE ADDITIONAL TICKETS FOR JAZZAPALOOZA IF DRY DAY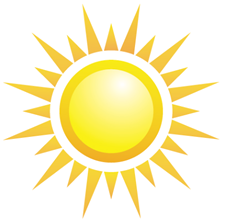 135 MORE TICKETS FOR THE SATURDAY JAZZAPALOOZA WILL BE SOLD AT 10:00AM, SATURDAY, SEPTEMBER 20, AT THE JAZZ CENTRAL TENT, MILLENNIUM PARK, AT THE TOP OF THE PARKING LOT CLOSE TO THE STREET, IF IT IS A DRY DAY. CASH OR CREDIT CARD ONLY.
135 MORE TICKETS FOR THE SUNDAY JAZZAPALOOZA WILL BE SOLD AT 10:00AM SUNDAY SEPTEMBER 21, AT THE JAZZ CENTRAL TENT, MILLENNIUM PARK, AT THE TOP OF THE PARKING LOT CLOSE TO THE STREET IF IT IS A DRY DAY. CASH OR CREDIT CARD ONLY.
YOUR TICKETS WILL NOT
BE MAILED TO YOU
To those who have purchased tickets (through this website), your tickets WILL NOT BE MAILED to you. You can pick them up at JAZZ CENTRAL when the Festival opens, or at the door of your first ticketed event.
JAZZ CENTRAL

Friday September 19, 2014, 10am-5pm:
Beside the Community Hall
Saturday & Sunday September 20 & 21, 10am-5pm
Sunny Day: Top of Millennium Park at the Madeira Wharf
Wet Day: Beside the Community Hall
THE 18TH ANNUAL
PENDER HARBOUR JAZZ FESTIVAL!
SEPTEMBER 19, 20 & 21, 2014
Once again, we have a line-up of world class musicians playing fabulous jazz in different styles, from Afro-Cuban to Bebop to Swing. Our indoor and alfresco venues are scattered around Pender Harbour and most of the events are free. All but one venue is accessible by water, and our trusty water-taxi, the Slo-Cat, will be shuttling folks between those venues throughout the Festival, weather permitting, at only $5.00 per ride.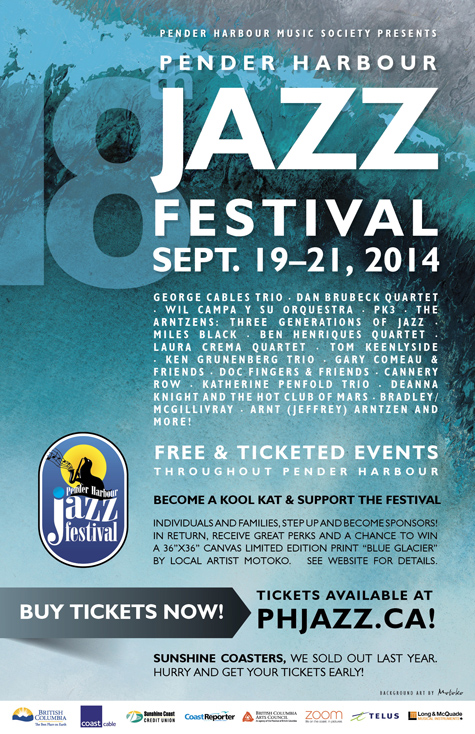 JAZZAPALOOZAS are back Saturday and Sunday afternoons with four hours of jazz each afternoon for the ridiculously low price of $25 each day. Children under 12 are free.
SATURDAY JAZZAPALOOZA features our Big Band from Cuba, Wil Campa y su Orquestra; The Laura Crema Quartet and PK3.
SUNDAY JAZZAPALOOZA features Ben Henriques; Dan Brubeck Quartet and the Arntzens: Three Generations of Jazz.
We are delighted to be able to bring in a jazz icon for the second year in a row to headline the Festival at the School of Music. The George Cables Trio will be in the house. Pianist Cables was in the Dexter Gordon Quartet and played and recorded with many Jazz Giants including Sonny Rollins, Art Pepper, Joe Henderson, Art Blakey, Freddie Hubbard, Sarah Vaughn and more. He is travelling from New York City for the Festival with his drummer Victor Lewis, and will be joined by Vancouver bassist Adam Thomas. Sensitive, lyrical, intimate, his music connects to his audience, heart to heart.
Check out all of our musicians here.
Please note: in consideration of the musicians and audience members, all Festival venues are smoke & fragrance free.
Be a Kool Kat!
Individuals and families can step up and become sponsors of the Jazz Festival by becoming KOOL KATS.  In return, you get ten minutes advanced seating (before doors open) at ticketed events for premium seating, receive a free KOOL KAT t-shirt, a CD from one of our performing artists, a chance to win Motoko's "Blue Glacier" (limited edition print stretched on canvas) and a charitable tax donation receipt.
View photos from the 2013 festival
Thank You!
It is the support and spirit of sponsors, KOOL KATS, advertisers, venues, musicians, community supporters, volunteers and all thos who attended that keep the Jazz Festival alive.  Thank you!
Corporate Sponsors
We thank the support of our corporate sponsors for making the Pender Harbour Jazz Festival a reality.  See the list of our 2014 sponsors.  For more information about sponsorship, please click here.
Ultimate Guide to Summer Jazz Festivals
The Ultimate Summer Jazz Festivals Guide for September 2014 features over 60 jazz events from all over the world.