2014 Jazz Festival Tickets on sale starting June 1, 2014
Mark your calendars now!
Shop early and don't miss the music.  All ticketed events of the 2013 Festival sold out early.
The 18th Annual Pender Harbour Jazz Festival takes place September 19 to 21, 2014.
18th Annual
Pender Harbour Jazz Festival
September 19 to 21, 2014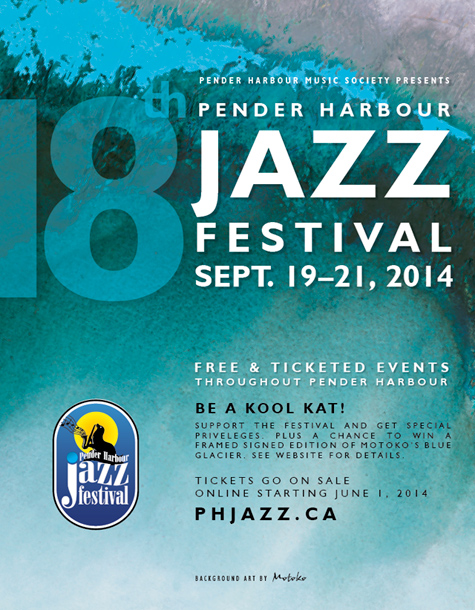 Be a Kool Kat!
Individuals and families can step up and become sponsors of the Jazz Festival by becoming KOOL KATS.  In return, you get ten minutes advanced seating (before doors open) at ticketed events for premium seating, receive a free KOOL KAT t-shirt, a CD from one of our performing artists, a chance to win Motoko's "Blue Glacier" (limited edition print stretched on canvas) and a charitable tax donation receipt.
View photos from the 2013 festival
THANK YOU!

It is the support and spirit of sponsors, KOOL KATS, advertisers, venues, musicians, community supporters, volunteers and all thos who attended that keep the Jazz Festival alive.  Thank you!
Corporate Sponsors
We thank the support of our corporate sponsors for making the Pender Harbour Jazz Festival a reality.  See the list of our 2013 sponsors.  For more information about sponsorhship, please click here.