2013 Chamber Music Festival a Great Success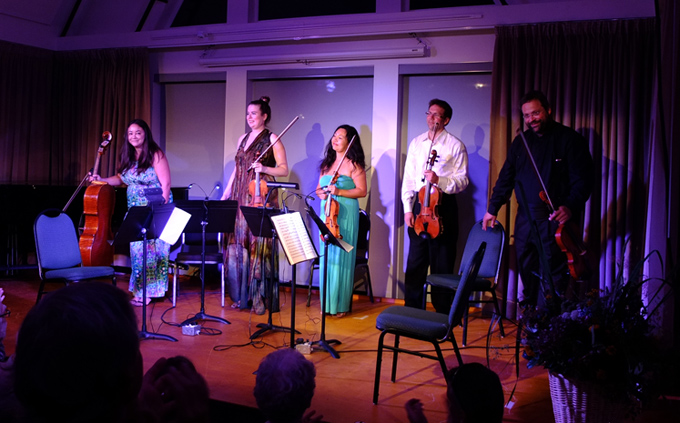 Eight musicians from around North America, as far away as New York City, came to the Sunshine Coast to provide four glorious days of chamber music for fans of all ages. From 2 to 92 everyone found something to grab their hearts and minds. There were fantastic and sometimes unusual works by contemporary composers as well as some time-honoured classics – all performed by some of the finest ensemble playing to have been heard on the Coast. It is hard to imagine this diverse group coming together so quickly to such an astounding level of play, but they managed precisely that.
For the first time, the bandoneón was featured in tango works by Piazzolla and in fugues by Bach, spanning three centuries. And, we were treated to the full range of what a clarinet can do, from gems of the chamber repertoire such as Brahms' Clarinet Sonata No. 2 to François Houle's own Aerial XXI. Who knew that two clarinets could be played at one time by the same person, or how often has anyone heard two notes played simultaneously on one clarinet?
You could feel the electricity when internationally recognized violinist, Lara St. John, took the stage, and the audience was dazzled by the playing of: Yehonatan Berick, violin and viola; Joyce Lai, violin; Ian Clarke, viola; Rachel Mercer, cello; François Houle, clarinet; Jonathan Goldman, bandoneón; and Artistic Director Alexander Tselyakov on piano.
The Beethoven "Spring" Sonata, probably the most popular of the violin sonatas, had the audience on its feet and a less frequently heard piece of music, Kodály's Serenade for Two Violins and Viola, was also an audience favourite. The Glazunov Oriental Reverie had music fans so mesmerized that there was simply dead silence for a number of seconds before they broke into wild applause, and Sarasate's Navarra for Two Violins and Piano was an absolute tour de force.
The free concert, Chamber Music Doesn't Bite, donated by the musicians, made a rainy Friday afternoon special for many young people and for those new to the chamber music genre. The School of Music was full to the rafters with over 25 young children and their families, people new to the event, and a few seasoned concert goers. It was a particularly fun afternoon, full of great music and funny moments.
The buzz of anticipation in the audience was palpable before performances and during intermissions, and there was a babble of comments at the end of every concert. It was truly a magical musical experience.
29 August 2013

Categories: