The Welsh Men Are Coming!
The Vancouver Welsh Men's Choir (director Jonathan Quick, accompanist David Buchan) performs with Pender Harbour Choir (director Joy McLeod, accompanist Paula Seward) on Saturday, October 4, 2014, 7:30 pm at the Madeira Park Community Hall.  Tickets ($25) are available at EarthFair Books in Madeira Park and at the Sechelt Visitors' Centre.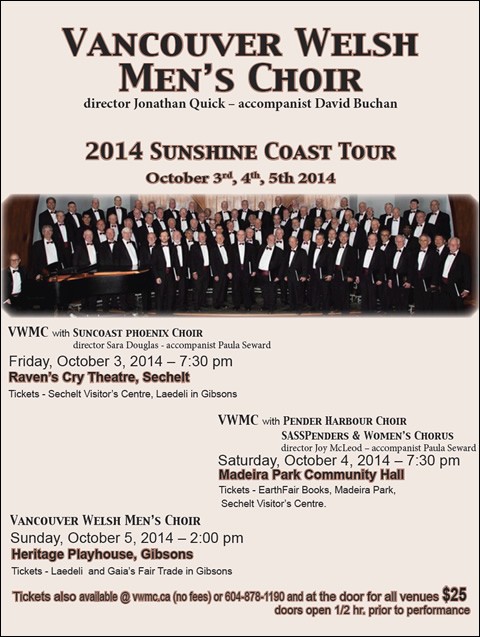 Mamma Mia! Sing-Along/Dance-Along
A big crowd sang along and danced along to the ABBA songs we all love in a celebration of MAMMA MIA (The Movie) with onscreen lyrics. The Pender Harbour Choir presented this fundraising, fun-filled event on Saturday, May 3, 2014 , 7:00 pm at the Sechelt Seniors' Activity Centre.
Pender Harbour Choir
After an energizing year of proudly celebrating our 40-year history, the Pender Harbour Choir is looking forward to a busy season working with Director, Joy McLeod.
The Spring term will bring participation in the Sunshine Coast Festival of the Performing Arts in April, followed by two concerts in mid-June.
This is also a Kathaumixw year (International Choral Festival in Powell River), and we hope to host an international choir for a concert at the School of Music in early July.
Our approximately thirty members can vouch for the benefits of singing and of belonging to such a cohesive and welcoming community group. We draw members from all over the Sunshine Coast, Egmont to Gibsons, to our rehearsals each Tuesday from 7-9pm at the School of Music in Madeira Park. New members are welcome and should call Joy McLeod for information or to arrange to observe/join in at a rehearsal.
We need a few good men, and women, too!
The Pender Harbour Choir welcomes additional singers, especially MEN, to join in the fellowship and joy of singing on Tuesday evenings from 7:00 to 9:00 pm at the Pender Harbour School of Music in Madeira Park.  No audition is necessary.  Ability to read music is not a requirement, but willingness to learn is strongly encouraged.
Contact our Music Director, Joy McLeod at 604.883.9248 or click here.
Pender Harbour Choir News