Pender Harbour Choir presents a Canadian Christmas!
The Pender Harbour Choir (director Joy McLeod, accompanist Paula Seward) presents a Canadian Christmas on December 5, 2014 (7pm) at St. John's United Church in Davis Bay and on December 7, 2014 (2pm) at the School of Music in Madeira Park. Tickets ($15) are available from choir members, EarthFair Store in Madeira Park, Laedeli in Gibsons, Sechelt Visitor Centre and at the door.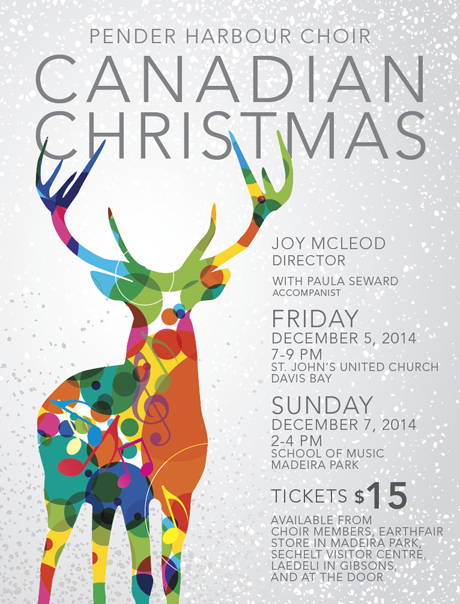 Mamma Mia! Sing-Along/Dance-Along
A big crowd sang along and danced along to the ABBA songs we all love in a celebration of MAMMA MIA (The Movie) with onscreen lyrics. The Pender Harbour Choir presented this fundraising, fun-filled event on Saturday, May 3, 2014 , 7:00 pm at the Sechelt Seniors' Activity Centre.
We need a few good men, and women, too!
The Pender Harbour Choir welcomes additional singers, especially MEN, to join in the fellowship and joy of singing on Tuesday evenings from 7:00 to 9:00 pm at the Pender Harbour School of Music in Madeira Park.  No audition is necessary.  Ability to read music is not a requirement, but willingness to learn is strongly encouraged.
Contact our Music Director, Joy McLeod at 604.883.9248 or click here.
Pender Harbour Choir News